Paul Potts is the superstar of next year's Open-Air Festival in Szeged
The world-known tenor will sing the role of the Steersman in The Flying Dutchman which is the Dóm Square festival's opening production in 2016. A few days ago, in London he signed the contract for the role. With 4 studio albums and more than 600 concerts, Potts – who appeared in Britain's Got Talent in 2007 – is one of the best known singers in the world. More than 141million people have watched his debut in the talent show on Youtube.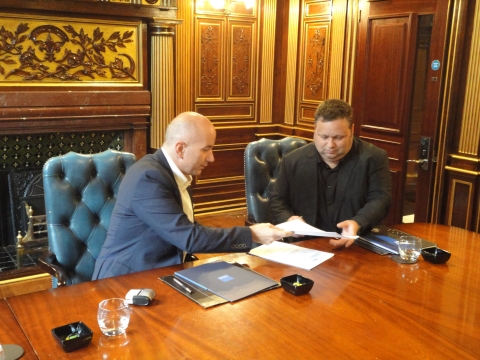 Director of Szeged Open-Air Festival, Tamás Herczeg met with British singer Paul Potts in London: the festival asked the world-known tenor to play a role in next year's opera production, Richard Wagner's The Flying Dutchman. At the meeting Potts signed his contract, so it is certain now that he will sing the role of the Steersman. He told us that he is a big fan of Wagner and his first opera experience was the Maestro's Tristan and Isolde. Partners of Potts in the production have been not announced yet, the festival will tell about them and the conception of the performance at the beggining of next year.


Paul Potts appeared in the talent show Britain's Got Talent, in 2007. The singer who didn't seem to be able to step onto stage at first sight, let alone sing, proved that there is treasure in his throat. Although he acted in operaproductions before on smaller stages, that was the biggest challenge in his life. He sang Puccini's Nessun Dorma in such an overwhelming style that he immediately won over the audience and the jury (the leader of which was Simon Cowell). The Youtube-video about his debut has been seen by more than 141million people. Most of us know the beautiful aria from his performance. It is almost unbelievable but more than twice as much people have heared it from him than from Pavarotti if we look at the numbers of Youtube. Potts has won that year's Britain's Got Talent. His life and success in the talent show was made into a Hollywood movie with the title One Chance, and people could watch it world-wide.
In the past few years, he has released 4 studio albums, from which the first one, also called One Chance, topped the charts in 13 countries. His multi-platinum albums has been sold in more than 5million copies worldwide. The audience, more than 2million people, welcomed him in 44 countries with huge admiration, he gave more than 600 concerts. This year he will tour in the UK, Denmark and Norway.
(photo: Max Dodson)