Katarina Witt discussed her role in Un ballo in Maschera in Berlin
The world-wide known superstar figure skater will step onto stage as the queen of the ball this summer, at Szeged in Verdi's opera. It's an exquisite event, because she only accepted the role for the sake of the Open-Air Festival and the spectacular performance.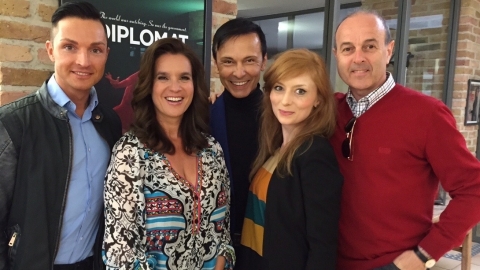 Katarina Witt welcomed the designers of the performance, Ildi Tihanyi and Tamás Náray and the choreographer, Ádám Sólya and the artistic director of the festival, Gyula Harangozó in her Berlin office. The Ice Princess met with the above mentioned because she will be the queen of the ball in the most spectacular scene of Verdi's opera this summer. Her part in the piece is really special because she didn't plan to step on ice again. Although they still haven't decide whether she will be doing any ice choreography, the event will be really special.

Katarina started to work with the creators with huge excitment. Firstly she talked about the choreography with Ádám Sólya, who lives and works in many thatrical and ice shows in Belgium. The legendary champion already knew a few things about the festival, and she was amazed by the size and the atmosphere of it. She also already knew about the fact that at one point during the performance the stage will transform into a huge ice rank. Katarina told us that she only had the chance to stand on plastic ice once in her life, so it is also a special challenge, and she will do everything for the scene to be perfect and successfull. Together with Ádám Sólya and the twelve ice dancers she wanted to amaze the audience with a picturesque scene full of crystals and beauty.

The meeting continued with taking a look at the set and costume designs. Tamás Náray and Ildi Tihanyi showed her the plans and told her their ideas about the dress of the queen. Katarina was amazed by the perfect, haute couture elegancy. She chose a romantic piece, a blue gown with crystals and tulle, with a very womanly hip-part and majestic hair-do and crown.

Katarina will arrive to Szeged for the last few rehearsals to bring a special light into the mediterranean summer night together with the stage director and the opera singers. Un Ballo in Maschera can be seen 3rd and 4th July at Dóm Square.