Mamma Mia!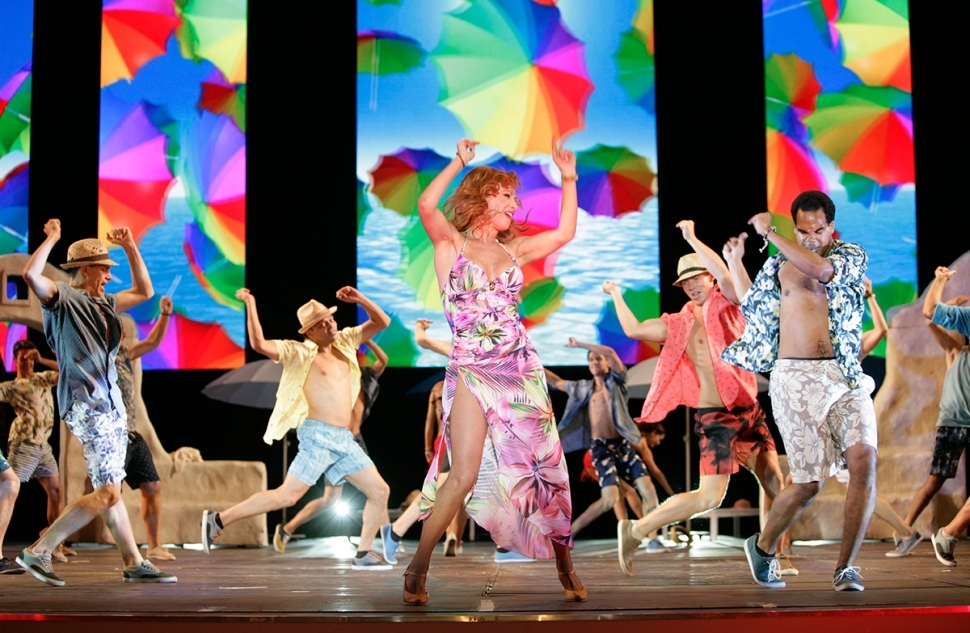 This will be the fourth summer since its 2014 premiere that ABBA's never tiresome musical will captivate fans on Dóm Square. Nor will the explosive disco atmosphere be lacking this summer either, with the actors again getting all 4000 people in the audience up on their feet and dancing.
Jegyvásárlás
Szereposztás
Directed by Szirtes Tamás
Music and Lyrics: BENNY ANDERSSON, BJÖRN ULVAEUS valamint néhány dalban STIG ANDERSON
Scenario: CATHERINE JOHNSON
Translated by Bárány Ferenc and Puller István
Donna Sheridan: KOVÁTS KRISZTA
Sam Carmichael: SASVÁRI SÁNDOR
Bill Austin: SZEREDNYEY BÉLA
Harry Bright: MOLNÁR LÁSZLÓ
Tanya: DÉTÁR ENIKŐ
Rosie: SÁFÁR MÓNIKA
Sophie Sheridan: SIMON BOGLÁRKA
Sky: SÁNTA LÁSZLÓ
Lisa: LAPIS ERIKA
Ali: FOKI VERONIKA
Pepper: NÉMETH GÁBOR
Eddie: BERÉNYI DÁVID
Further players:
Baranyai Annamária, Barát Attila, Kecskés Tímea, Mező Zoltán, Nagy Attila, Sándor Dávid, Sári Éva, Szentirmai Zsolt, Tóth Angelika, Wégner Judit
Participated by the Dance Group, Orchestra and Choir of Madách Theater.
Choreographer: Tihanyi Ákos
Stage designer: Bátonyi György
Costume designer: Szűcs Edit
Musical director: Kocsák Tibor
Animation: Vízvárdi András
Lighting designer: Madarász "Madár" János
Sound engineer: Ditzmann Tamás
Scenic: Szűcsborus János
Conductor: Kocsák Tibor
Assistant choreographer: Molnár Ferenc
Music assistant: Kutschera Éva
Répétiteur: Axmann Péter, Erős Csaba, Szegeczky Ágnes
Choir teacher: Lovas Gabriella
Dance group teacher: Czakó Dóra
Associate of the director: Vaszilenko Eugenia
Playmaker: Bencze Ilona
Donna Sheridan............................................................................... KOVÁTS KRISZTA
Sam Carmichael........................................................................ SASVÁRI SÁNDOR
Bill Austin............................................................................. SZEREDNYEY BÉLA
Harry Bright............................................................................... MOLNÁR LÁSZLÓ
Tanya ................................................................................................ DÉTÁR ENIKŐ
Rosie ............................................................................................ SÁFÁR MÓNIKA
Sophie Sheridan...................................................................... SIMON BOGLÁRKA
Sky................................................................................................. SÁNTA LÁSZLÓ
Lisa...................................................................................................... LAPIS ERIKA
Ali................................................................................................ FOKI VERONIKA
Pepper.......................................................................................... NÉMETH GÁBOR
Eddie ........................................................................................... BERÉNYI DÁVID
Further players:
Baranyai Annamária, Barát Attila, Kecskés Tímea, Mező Zoltán,
Nagy Attila, Sándor Dávid, Sári Éva, Szentirmai Zsolt, Tóth Angelika,
Wégner Judit


Participated by the Dance Group, Orchestra and Choir of Madách Theatre